APPLICATION OF NANOMATERIALS IN THE CERAMIC BODY, GLAZES AND GLASS IN THE HISTORICAL PROCESS

Özet Görüntüleme: 188 /

PDF İndirme: 60
Anahtar Kelimeler:
Artistic glazes, Nanotechnology, Nano metal oxide, ceramic body, colored glass.
Özet
Nanoscience is about the occurrence in systems with nanometer and it expresses 10-9 times smaller than the unit. Scientifically, it was first defined by Richard Feynman in 1959 and then sprang into the public consciousness in 1982 (Lindsay, 2009). Today with the development of technology, use of nanoscale materials has become very common in the manufacturing and material sectors, medical and health sectors, in aerospace research and in many fields.   Apart from science, the use of Nano-dimensional materials in arts, especially in ceramics and glass art, is well known from the Bronze Age up to the present. The use of Nano-sized coloring metal oxides in the ceramic and their glazes also glass fragments found in excavation was determined by different analytical methods such as XRD, TEM, and Raman (Colomban, 2009). The most distinctive feature of the use of Nano-sized metal oxides in glass and glaze construction is the color change of these materials with light change. This is due to the dimensional properties of the metal oxides. As an illustrative example, the Lycurgus glass cup produced in Rome in the 4th century or ancient luster glazes are some of the materials which their colorant is a Nanosized metal oxide. The use of Nano-sized materials, especially metal oxides is in order to reduce the sintering temperature of the ceramic body and create different artistic effects with glazes is continuing up to the present day. In this study, the use of nanostructures in the production of ceramics from ancient times to the present day will be researched by different analyzes on samples.
Referanslar
Angelini, I., Artioli, G., Bellintani, P., Diella, V., Gemmi, M., Polla, A., & Rossi, A. (2004). Chemical analyses of Bronze Age glasses from Frattesina di Rovigo, northern Italy. Journal of Archaeological Science, 31(8), 1175-1184.
Arletti, R., Quartieri, S., & Vezzalini, G. (2006). Glass mosaic tesserae from Pompeii: an archeometrical investigation. Periodico di Mineralogia, 75, 25-38.
Barber, D., & Freestone, I. C. (1990). An investigation of the origin of the colour of the Lycurgus Cup by analytical transmission electron microscopy. Archaeometry, 32(1), 33-45.
Boch, P., & Niepce, J.-C. (2010). Ceramic Materials: Processes, Properties, and Applications (Vol. 98): John Wiley & Sons.
Bruce-Mitford, R. L. S., & Raven, S. (2005). A corpus of late Celtic hanging-bowls with an account of the bowls found in Scandinavia: Oxford University Press, USA.
Brun, N., Mazerolles, L., & Pernot, M. (1991). Microstructure of opaque red glass containing copper. Journal of Materials Science Letters, 10(23), 1418-1420.
Caiger-Smith, A. (1985). Lustre pottery: technique, tradition and innovation in Islam and th e Western World: Faber and Faber.
Cao, G. (2004). Nanostructures and nanomaterials: synthesis, properties and applications: World Scientific.
Carter, C. B., & Norton, M. G. (2007). Ceramic materials: science and engineering: Springer Science & Business Media.
Cavalcante, P., Dondi, M., Guarini, G., Raimondo, M., & Baldi, G. (2009). Colour performance of ceramic nano-pigments. Dyes and pigments, 80(2), 226-232.
Chabanne, D., Bouquillon, A., Aucouturier, M., Dectot, X., & Padeletti, G. (2008). Physico-chemical analyses of Hispano-Moresque lustred ceramic: a precursor for Italian majolica? Applied Physics A: Materials Science & Processing, 92(1), 11-18.
Colomban, P. (2009). The use of metal nanoparticles to produce yellow, red and iridescent colour, from bronze age to present times in lustre pottery and glass: solid state chemistry, spectroscopy and nanostructure. Paper presented at the Journal of Nano Research.
Gardini, D., Dondi, M., Luisa Costa, A., Matteucci, F., Blosi, M., Galassi, C., . . . Cinotti, E. (2008). Nano-sized ceramic inks for drop-on-demand ink-jet printing in quadrichromy. Journal of nanoscience and nanotechnology, 8(4), 1979-1988.
Hashim, A. A. (2012). The delivery of nanoparticles: InTech.
Hench, L. L. (1991). Bioceramics: from concept to clinic. Journal of the American Ceramic Society, 74(7), 1487-1510.
Hench, L. L., & Wilson, J. (1993). An introduction to bioceramics (Vol. 1): World scientific.
Hu, Z., Xue, M., Zhang, Q., Sheng, Q., & Liu, Y. (2008). Nanocolorants: a novel class of colorants, the preparation and performance characterization. Dyes and pigments, 76(1), 173-178.
James, L. (2006). Byzantine glass mosaic tesserae: some material considerations. Byzantine and modern Greek studies, 30(1), 29-47.
José-Yacamán, M., Rendón, L., Arenas, J., & Puche, M. C. S. (1996). Maya blue paint: an ancient nanostructured material. Science, 273(5272), 223.
Kurmann-Schwarz, B., & Lautier, C. (2009). The Medieval stained-glass window in Europe: 10 years of abundant research. Perspective-La Revue De L Inha(1), 99-130.
Lindsay, S. (2009). Introduction to nanoscience: Oxford University Press.
Mirguet, C., Roucau, C., & Sciau, P. (2009). Transmission electron microscopy a powerful means to investigate the glazed coating of ancient ceramics. Paper presented at the Journal of Nano Research.
NayebPashaee, N., Aarabi, A., Sarpoolaky, H., & Vafaeenezhad, H. (2015). The Effect of ZnO Addition on Microstructure, Phase and Color Developments of Copper Reduction Glaze. Metallurgical and Materials Engineering, 21(2), 89-100.
Perera, D. Y. (2004). Effect of pigmentation on organic coating characteristics. Progress in organic coatings, 50(4), 247-262.
Pérez-Villar, S., Rubio, J., & Oteo, J. L. (2008). Study of color and structural changes in silver painted medieval glasses. Journal of Non-Crystalline Solids, 354(17), 1833-1844.
Pérez‐Arantegui, J., Molera, J., Larrea, A., Pradell, T., Vendrell‐Saz, M., Borgia, I., . . . Mellini, M. (2001). Luster pottery from the thirteenth century to the sixteenth century: a nanostructured thin metallic film. Journal of the American Ceramic Society, 84(2), 442-446.
Roqué, J., Molera, J., Sciau, P., Pantos, E., & Vendrell-Saz, M. (2006). Copper and silver nanocrystals in luster lead glazes: Development and optical properties. Journal of the European Ceramic Society, 26(16), 3813-3824.
Schodek, D. L., Ferreira, P., & Ashby, M. F. (2009). Nanomaterials, nanotechnologies and design: an introduction for engineers and architects: Butterworth-Heinemann.
Sciau, P. (2012). Nanoparticles in ancient materials: the metallic lustre decorations of medieval ceramics (Vol. 115): INTECH Open Access Publisher.
Serpone, N., Dondi, D., & Albini, A. (2007). Inorganic and organic UV filters: Their role and efficacy in sunscreens and suncare products. Inorganica Chimica Acta, 360(3), 794-802.
Shugar, A. N. (2000). Byzantine opaque red glass tesserae from Beit Shean, Israel. Archaeometry, 42(2), 375-384.
Vajtai, R. (2013). Springer handbook of nanomaterials: Springer Science & Business Media.
Wilson, N. (2013). Encyclopedia of ancient Greece: Routledge.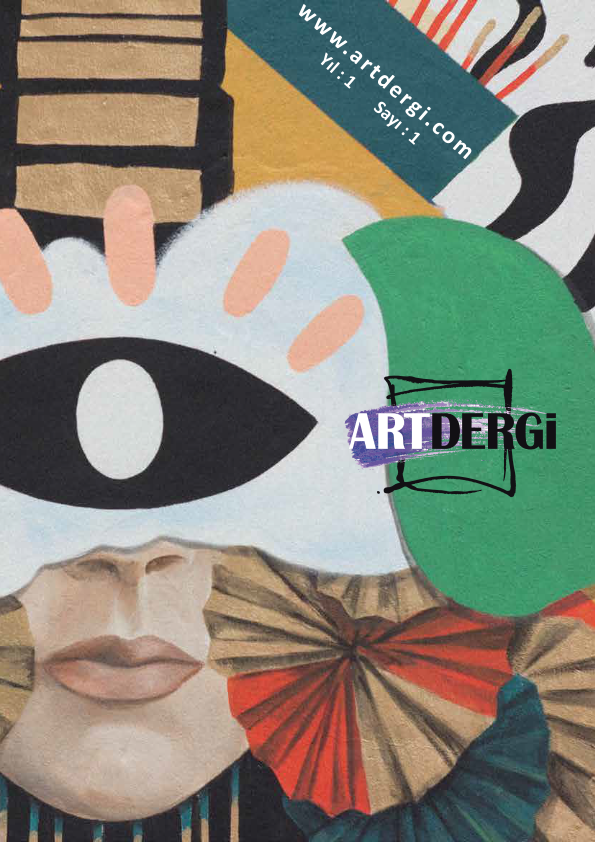 İndir
Nasıl Atıf Yapılır
MANAFIDIZAJI, A., & MANAFIDIZAJI, K. (2022). APPLICATION OF NANOMATERIALS IN THE CERAMIC BODY, GLAZES AND GLASS IN THE HISTORICAL PROCESS. International Journal of Art, Fashion, Music and Design, 1(1), 59–69. https://doi.org/10.5281/zenodo.7083296
Lisans
Telif Hakkı (c) 2022 International Journal of Art, Fashion and Music
Bu çalışma Creative Commons Attribution-NonCommercial 4.0 International License ile lisanslanmıştır.